There are plenty of reasons to celebrate the University of Northern Iowa's student-athletes. In February, the men's basketball team earned the title of Missouri Valley Conference regular season champions. UNI wrestler Parker Keckeisen took home bronze at the 2022 NCAA Division I National Wrestling Championships in March. The softball team is currently on a 14-game winning streak. UNI even had two Paralympians, Erin Kerkhoff and Jessica Heims, compete for Team USA last summer. 
UNI student-athletes have a reputation for performing well in their sport of choice and in the classroom. For the fall 2021 semester, the 412 students in the athletics department had an average GPA of 3.32. Seventy-four percent of UNI student-athletes achieved a GPA over 3.0 in fall 2021 and 46% achieved a GPA of 3.5 or better. 
Some of the academic accomplishments of our Panther sports teams include both the UNI men's and women's cross country teams earning academic honors from the U.S. Track and Field and Cross Country Coaches Association in 2021 and the UNI swimming and diving team being named a College Swimming Coaches Association of America Scholar All-American Team.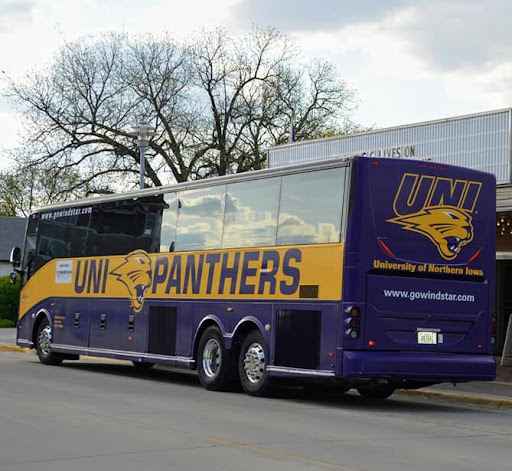 UNI Athletics' Panther Caravan will be making the rounds again May 9-12, with stops in Decorah, West Des Moines, Sioux City and Fort Dodge. This exciting event is the chance for UNI alumni and fans to gather, eat great food, participate in fun activities and listen to UNI President Mark Nook, our coaches, Director of Athletics David Harris and other special guests. All Panther Caravan events are free and open to anyone who supports the Purple and Gold.
"Panther Caravan allows us to celebrate not just our athletic achievements but also the fans that are cheering us on every step of the way," said Director of Athletics David Harris. "Panthers truly are ever loyal, and we love getting the chance to interact with them in person and thank them for all their support."
Complete details about each Panther Caravan stop and registration can be found on the website.