This summer, the University of Northern Iowa announced the UNI@IACC (Iowa Community Colleges) initiative to provide adult and place-bound learners with easier access to a four-year degree. After earning an associate's degree at any of Iowa's community colleges, students can seamlessly earn a bachelor's degree from UNI in one of seven high-demand areas online without ever having to leave their hometowns.
UNI@IACC builds on the success of the UNI Online & Distance Education program, which 98% of distance students say they would recommend to others. While students who obtain their UNI degree won't be on the UNI campus, UNI is committed to helping these students feel like they are still part of the Panther family. One way UNI is ensuring students get the high-touch personal sense of community that is the hallmark of a UNI education is by hiring student support specialists who will be at Indian Hills Community College, Iowa Western Community College, Western Iowa Tech Community College and Des Moines Area Community College full-time. These support specialists will assist students throughout the admissions and financial aid process, answering questions and connecting them with helpful resources at UNI.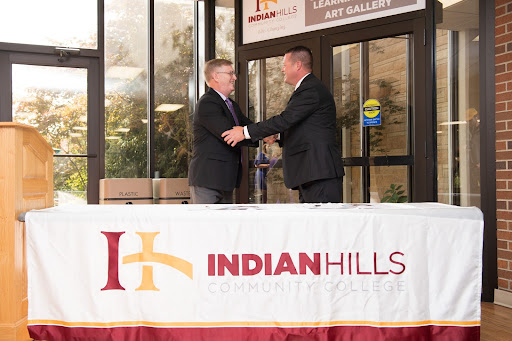 "We really are looking for a partnership," said President Mark A. Nook. "This isn't about us offering courses. It's about us being able to partner with the community colleges, meet the needs of their local workforce, meet the needs of the students and develop a true partnership to better support the students that are in their community."
The strength in UNI's partnership with UNI@IACC schools is evident in the numbers. UNI's overall transfer enrollment from Iowa community colleges increased 18 percent this fall, with enrollment from UNI@IACC sites growing 40 percent. 
By automatically awarding Future Ready Scholarships to eligible students, UNI@IACC helps alleviate the barrier of cost that may prevent many students from pursuing a four-year degree. Future Ready Scholarships, which are funded through the American Rescue Plan, pay the difference between Iowa community college tuition and UNI tuition. These scholarships support students earning a bachelor's degree who, on average, earn 48% more than their peers who have taken some college but not completed a degree.