UNI is proud to announce the launch of UNI@Iowa Community Colleges (UNI@IACC), an initiative that will help the university move forward in our goal to provide adult and place-bound learners with greater access to a four-year degree. The launch of UNI@IACC is made possible through one-time support provided by Governor Kim Reynolds through American Rescue Plan State and Local Recovery Funds.
The UNI@IACC initiative expands our successful UNI@DMACC program to three more Iowa community colleges: Western Iowa Technical Community College in Sioux City, Iowa Western Community College in Council Bluffs and Indian Hills Community College in Ottumwa.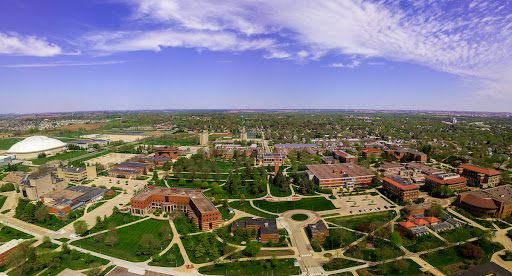 Beginning in full during the fall 2022 semester, UNI@IACC will provide seamless access for adult and place-bound learners completing their associate's degrees to finish their bachelor's degrees online through UNI. In addition, UNI will place a dedicated on-site student support specialist at each UNI@IACC institution to provide holistic advising, internship and career placement services for students. In the fall, we will have student support specialists in place at DMACC and Western Iowa Tech, and in the spring we will have these personnel placed at Iowa Western and Indian Hills. The adult and place-bound learners served through the UNI@IACC partnership will also have access to faculty who are critical to delivering the personalized touch that defines a UNI education.
"UNI has always been committed to providing a high-quality, affordable education," said UNI President Mark Nook. "The UNI@IACC initiative builds on this commitment by ensuring more Iowans can receive a bachelor's degree while staying in their communities to work and raise their families. This initiative removes barriers that prevent many Iowans from furthering their education and being ready to fill the growing number of jobs in Iowa that require a four-year degree."
The on-site presence and branding at each of these community colleges create new opportunities to build awareness across our state about the value of a UNI education; the expanded presence at four Iowa community colleges allows us to enhance our recruitment of traditional, transfer and online students.
Governor Reynolds authorized $4.166 million in American Rescue Plan funding to support the project, with the majority of those funds going toward Future Ready Scholarships. These scholarships will cover the difference between community college tuition and UNI's tuition rate for students with financial need. The remaining funds will cover operating and personnel expenses at each of the four UNI@IACC sites.
The initial partnership with DMACC provides students with pathways to complete their four-year degree in Elementary Education (BA); Managing Business and Organizations (BAS); Management: Business Administration (BA); Criminal Justice (BAS); Human Services (BA); Technology Management (BA); and Bachelor of Liberal Studies (BLS). The UNI@IACC initiative will expand these offerings to our new community college partners.