UNI supports Iowa's entrepreneurs and business owners
A partnership program housed at UNI between the UNI John Pappajohn Entrepreneurial Center (JPEC) and the Iowa Economic Development Authority (IEDA) focuses on connecting Iowans to small business resources across the state. Each year nearly 100,000 visitors come to IASourceLink to find information that will help them with their business, ranging from coming up with an idea to finding the right license for their business to planning to exit the business.
"We strive to support Iowa's entrepreneurs and business owners. IASourceLink makes this possible by linking those individuals with the right tools, including over 400 resource partners across Iowa," said Patrick Luensmann, associate director of the JPEC who oversees IASourceLink.
IASourceLink also supports programs offered to students through the JPEC, like the Cedar Falls High School Center for Advanced Professional Studies (CAPS) program, which gives them real-world experiences in a professional environment before they graduate from high school.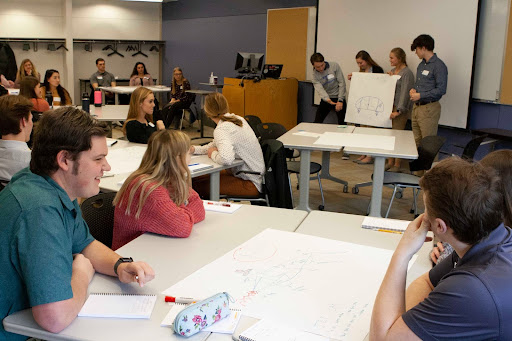 Another unique offering that IASourceLink provides is in partnership with the Iowa Department of Revenue (IDR) and includes live webinars on updates and information regarding Iowa business taxes. For the past nine years, IASourceLink and IDR collaborated to produce these webinars. During the summer and fall of 2021, nine webinars were offered. Over 4,500 people attended these webinars live during the webinar season and the recording of the webinars have been viewed more than 5,000 times. You can find the full archive of past webinars on the IASourceLink website.
IASourceLink strives to make connections for any stage of business to partners all across the state. Housed within the JPEC, IASourceLink is also positioned to meet the resource needs of UNI students and community members who seek the JPEC's assistance.