UNI to showcase its statewide impact at UNI Day at the Capitol
The University of Northern Iowa will host UNI Day at the Capitol from noon to 2:30 p.m. on Monday, March 7 in Des Moines. The event is an educational opportunity to highlight UNI's impact across the state of Iowa by showcasing programs, services, students and alumni.
Although UNI students already graduate with less debt than the average college student, the university is striving to make education even more affordable. We are asking for an additional $4 million in state funding to keep tuition and fees affordable and competitive while providing a high-quality education and increasing enrollment. The state appropriations request is to support UNI's focus on preparing Iowa's future-ready workforce.
"At UNI, we are focused on preparing graduates for Iowa's future workforce," said UNI President Mark A. Nook. "One of the most distinctive benefits about UNI is that 90% of our students come from Iowa, 85% of our graduates from Iowa stay in the state to work after earning their degrees, and half of our non-resident graduates remain in Iowa to contribute to our workforce."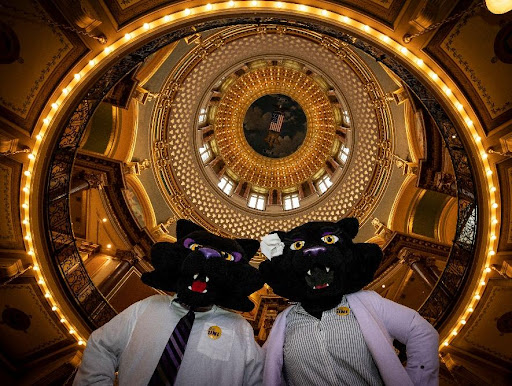 Graduation rates for UNI students are at record levels and are uniquely strong — nearly 20 percentage points higher than those of similar universities. One in 14 UNI students graduate in just three years. UNI has increased its four-year graduation rate by 16 percentage points since 1997 — from 29% to 45% — and the vast majority of UNI students graduate within five years.
In partnership with Iowa's community colleges, UNI is also proposing easing the process for adult and place-bound learners to move from an associate's degree to a bachelor's degree, which studies show increases earnings over their lifetime. UNI is developing partnerships with Iowa community colleges to bring greater access to a four-year degree. A new $1.6 million state appropriation request will help solidify this partnership into the future.

UNI Day at the Capitol Evening Reception
Please join UNI President Mark Nook following UNI Day at the Capitol from 5-7p.m. on March 7. There is no charge to attend, but please RSVP to assist with planning.
The Republic in the AC Hotel
401 East Grand Ave.
Des Moines, IA