With 450 to 500 graduates each year for the past 10 years, the University of Northern Iowa's educator preparation program is the largest in the state. Future teachers make up one-fourth of the undergraduate enrollment at UNI, which benefits the entire state since nearly 90 percent of teacher education graduates from UNI stay in Iowa to work after they graduate. UNI-educated teachers are employed in all 99 counties in Iowa and in 99 percent of Iowa's school districts.
UNI has a strong legacy of providing Iowa's public and private schools with educators. Currently, more than 10,000 educators in Iowa can trace their path back to a UNI education. That represents 22 percent of Iowa's elementary and secondary education professionals.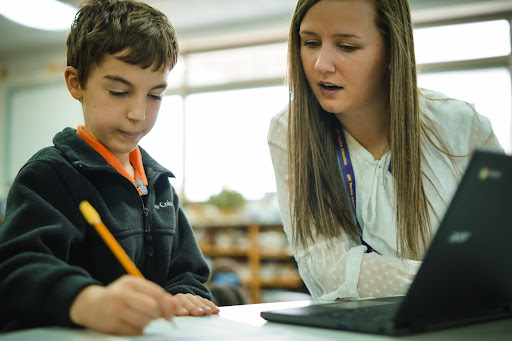 "We continue to lead the state in total number of teachers prepared, and we're one of the largest in the whole nation," said Benjamin Forsyth, director of educator preparation at UNI. "While the number of people completing teacher education programs in the state of Iowa has been on a steady decline in the past decade, the UNI teacher education graduating class remained steady over the same timeframe. This puts UNI in the top 1 percent of public institutions across the country for the number of students who graduate with a bachelor's degree in education."
UNI continues to find innovative ways to equip the next generation of teachers. Earlier this summer, UNI jointly announced its new Degree in Three Program in partnership with Hawkeye Community College and the Waterloo Community Schools Career Center to save future educators time and money. This program allows students to earn a bachelor's degree in elementary education within just three years of high school graduation by earning credits that count toward their associate's degree in high school, completing their associate's degree within one year of high school graduation through Hawkeye Community College and completing their degree in just two more years at UNI.
UNI has also created a simplified route to go from being a paraeducator to an elementary educator through the Purple Pathway for Paraeducators. The first cohort of nearly 70 paraprofessionals from across the state in this accelerated, online, practice-based program started their coursework this fall. The program provides a needed avenue for paraeducators to earn a bachelor's degree and become licensed elementary and/or special education teachers and builds on the success of the online 2+2 elementary education program in place for more than 25 years.
A major reason why UNI continues to power Iowa's educator workforce is the in-depth field experience every student participates in rural, urban, suburban and even international settings, totaling more than 725 hours by the time they graduate. Ample data shows that poorly trained teachers are more likely to leave the teaching profession early. UNI strives to provide the experience necessary for educators to remain in the profession to bring stability, continuity and, most importantly, expertise to our classrooms and schools.