The University of Northern Iowa takes great pride in its position as the top producer of teachers in the state, averaging 450 to 500 graduates each year. This is why it hosts the Made to Teach visit day for students interested in the teaching profession. This annual event, which was held on Oct. 7, gives high school and transfer students a taste of what it's like to be in UNI's teacher education program and what they can expect once they become teachers.
"Our Made to Teach event was a wonderful success!" said Benjamin Forsyth, associate dean for educator preparation. "It's always exciting to see the passion that the next generation of teachers will bring to the profession, and I'm confident that UNI will be the best place for them to start their fulfilling careers as educators."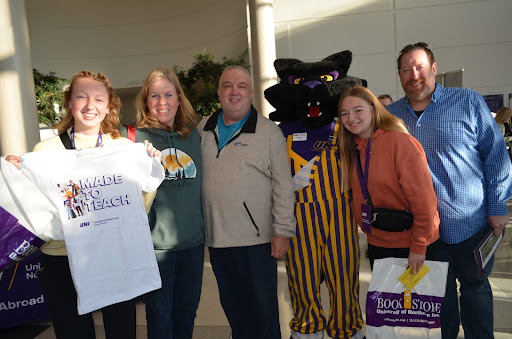 Each student could select three workshops to attend of the 15 offered, giving them insight to the area they hope to teach in or allowing them to explore numerous teaching possibilities. Some of the topics included effective communication with young children, developing health and fitness in students and engaging in science phenomena. Students also got to hear from Iowa Teacher of the Year Sara Russell.
Made to Teach helps students become more confident that teaching is the right choice for their careers, which ultimately helps them enter the profession better equipped to take on the challenges of teaching. This year, more than 200 students interested in teaching at every level, from early childhood through high school, came to the UNI campus for the event.
UNI's teacher education program is known for both its size — which is in the top one percent of teacher education programs nationally — and its quality, as it provides students with in-depth field experience totaling more than 725 hours by the end of student teaching. UNI is the top producer of elementary education majors in the state as well as several secondary teaching areas such as business teaching, mathematics education and teaching English to speakers of other languages (TESOL). UNI offers the only dual major in middle-level education from a Regent university in Iowa and provides a comprehensive range of education degrees from BA all the way to EdD.