Since March 2020, UNI's Institute for Decision Making (IDM) and Strategic Marketing Services (SMS) has partnered with the Iowa Economic Development Authority (IEDA) to survey over 32,600 Iowa businesses and organizations on how the coronavirus pandemic was impacting their operations. The first survey was completed in March 2020 and the fourth survey was completed in March-April 2022. In recent months, IDM and SMS have analyzed the results across the four surveys to assess the impacts on Iowa businesses and organizations over time.
While analyzing this data now seems like a review of common knowledge, the true benefit of the four surveys and high participation levels during the pandemic has been the near real-time supply of information and data to policy and decision-makers.
The percent of respondents being negatively impacted was high in both March 2020 (83.6% ) and May 2020 (84%), with marked improvement both one (65.1%) and two years (59.1%) later. Early in the pandemic, the highest negative impacts for respondents focused on business development/sales, business operations and customer demand of products/services. In February-March 2021 and March-April 2022, the top negative impacts identified by respondents transitioned to include supply chain and workforce issues.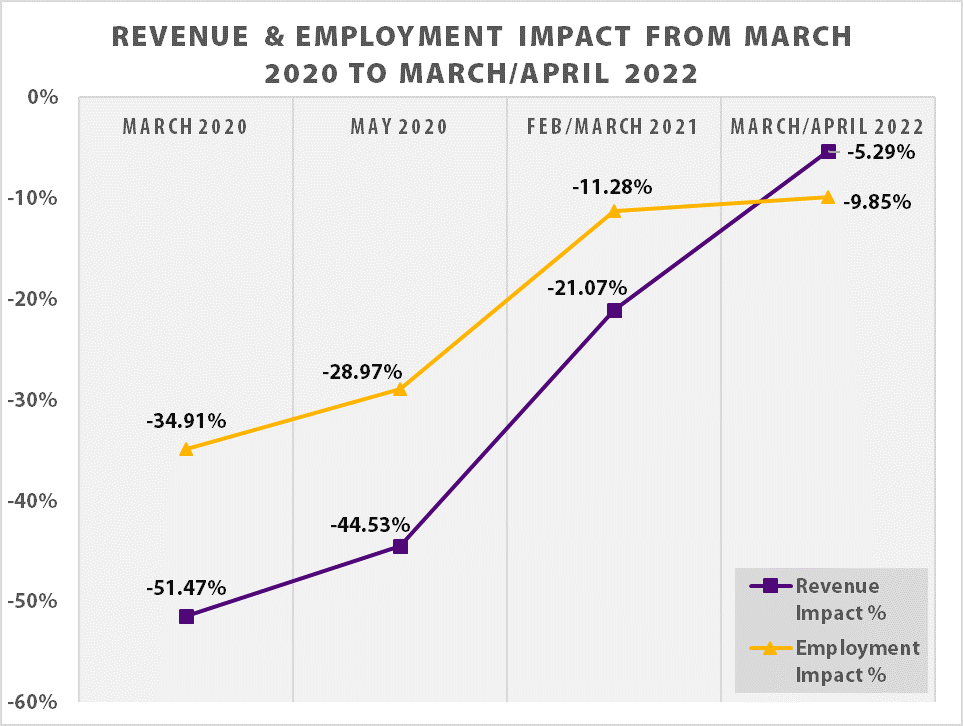 The pandemic's negative impact on respondents' revenue and employment was greatest in March and May 2020, and decreased significantly by February-March 2021 and again in March-April 2022. Initially, higher impacts were reported for revenue compared to employment; however, in the last survey conducted the employment impact (-9.85%) was higher as compared to revenue impact (-5.29%).
The top concerns identified by respondents shifted over the four surveys. The top concerns reported by respondents in the first three surveys varied, but all included financial impact factors such as cash flow and revenue loss/decreased consumer spending as well as a potential global recession and employee health/well-being. However, the top concerns identified by respondents in March-April 2022 more often included concerns regarding workforce availability, inflation and supply chain disruptions.
The statewide executive summary, rural business report and nonprofit report for all four of the surveys are available at this link. A comparison report will be released in the coming weeks. IDM and SMS's work on the four surveys was supported through UNI's Economic Development Administration University Center which is federally funded.
The pandemic affirmed UNI's Business and Community Services programs' commitment to leaning in to provide disaster response, insight, decision-making strategies and assistance to communities, businesses and nonprofits as Iowa faces current and future challenges. Lessons learned over the past two years will be formative to our state and important for the short-term and long-term preparedness and resiliency of Iowa's businesses and organizations.