Spring 2022 Commencement for the University of Northern Iowa is this coming weekend. UNI is excited to join with friends and family members to celebrate their loved ones in this memorable, meaningful ceremony.
"This year's graduates are the definition of resilient," said UNI President Mark Nook. "The pandemic disrupted their education in countless ways, and yet they persevered to reach their goal of obtaining their degree. We are all extremely proud of these graduates for their hard work, dedication to their education, and resilience in the face of adversity."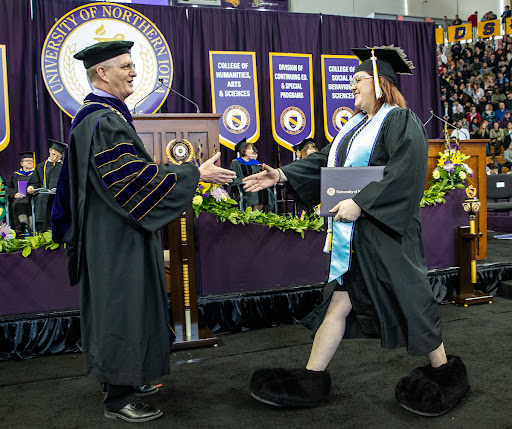 Graduation rates for UNI students are at record levels and are uniquely strong — nearly 20 percentage points higher than those of similar universities. One in 14 UNI students graduated in just three years, and nearly two out of three UNI students graduate from UNI within five years. 
The success of UNI students is a win for the state of Iowa as 85% of graduates from Iowa stay in Iowa, and 50% of undergraduates from outside Iowa stay in the state. This is a tremendous benefit for local communities in their roles as educators, accountants and everything in between. In addition, 92% of UNI students graduate equipped to be immediately successful in their careers thanks to at least one internship, field experience or a pre-professional part-time job.
Across all departments and colleges, 94% of UNI graduates are either starting a new job, continuing their education, or meeting other professional expectations within six months of graduation. Future teachers make up one-fourth of the undergraduate class at UNI, which benefits the entire state since 89% of teacher education students from UNI stay in Iowa to work after they graduate. UNI-educated teachers are also employed in all 99 counties in Iowa and in 99% of school districts.
With signature programs in education, business, accounting, finance, sciences, and community and social services, UNI prepares graduates in Iowa's high-growth, in-demand workforce.
There will be three Commencement ceremonies in the McLeod Center over two days:
Friday, May 13 at 7 p.m. for students in the College of Humanities, Arts, & Sciences
Saturday, May 14 at 10 a.m. for students in the College of Business and the College of Social & Behavioral Sciences
Saturday, May 14 at 2 p.m. for continuing education students and students in the College of Education