For 22 years, University of Northern Iowa's Gallagher Bluedorn Performing Arts Center has served the Cedar Valley and beyond. In that time, the center has educated, inspired and entertained more than two million citizens of Iowa. Originally built to host some 140 events and serve 12,000-14,000 guests annually, the facility today operates on an actual usage nearly 10 times those numbers. For the last two years, UNI has been working on an expansion that will allow the Gallagher Bluedorn to continue to grow its impact and become fiscally stronger.
To match the acoustically superb, visually stunning Catherine Cassidy Gallagher Great Hall, a $14.9 million expansion is planned that will lift pre- and post-show experience to the same level as performances. Fundraising for the renovation project is moving closer to the goal. To date, $13.2 million has been privately raised toward the goal.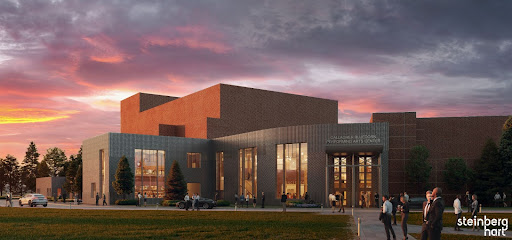 The project will feature several event space additions, upgrades to the facility's interior and exterior and improvements to seating. The project will create more than 13,000 square feet of new and renovated space. The expansion will allow the facility to grow the impact it has already made on the community and state:
Over 700,000 children have crossed the threshold of the Gallagher Bluedorn to attend a performance as part of the Kaleidoscope Series for Youth. For only a buck a kid, the program provides accessible arts-learning opportunities for teachers and students across Iowa, and through the development of our online programming, helps showcase the theatre arts across the nation.
Having the opportunities to perform, practice and learn in Gallagher Bluedorn has helped the UNI School of Music grow into one of the finest music programs in the Midwest. There is no comparison to the access and experiences that are granted to UNI students by Gallagher Bluedorn, whether performing on stage or working behind the scenes at a world class show. Each year, the School of Music hosts over 150 events, rehearsals and classes in the Gallagher Bluedorn. The renovation project will allow Gallagher Bluedorn to continue its deep partnership with the School of Music, fostering the next generation of artists and arts professionals.
The Gallagher Bluedorn takes great pride in being able to collaborate with neighbors each year to create incredible opportunities for the entire community. Collaborations like the recent production of Joseph and the Technicolor Dreamcoat done in partnership Cedar Falls and Waterloo Community theatres and the Waterloo Cedar Falls Symphony create brilliant large scale production that no one partner could produce alone. From hosting dance recitals to lifetime achievement award ceremonies, the Gallagher is home to a wealth of experiences well beyond programming you'd typically find at a performing arts center.
Work on the facility will begin in 2023, changing the way the Gallagher Bluedorn works and allowing it to serve current patrons and continue its legacy as the Cedar Valley's premiere home for the performing arts.