Students are back at the University of Northern Iowa, and campus is alive with excitement! New and returning Panthers enjoyed a week packed with activities to introduce them to campus and start making them feel more at home.
"There is a lot happening on our campus this coming year, but it is the people of our campus that make it truly remarkable," said President Mark A. Nook. "It is wonderful to have students, faculty, staff and our many visitors back on campus. The richness of the UNI experience is built on the community we create through the opportunities we have for engagement, discovery and connection. Our campus serves as a forum for free expression and open dialogue conducted in a respectful manner."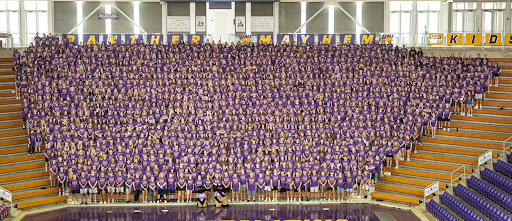 Class of 2026
As we look ahead to another promising semester, there is much to celebrate when it comes to academics. The fall 2022 semester marks the official launch of UNI Foundational Inquiry (UNIFI) which is UNI's revised general education curriculum. This curriculum provides a foundation of knowledge, skills and ways to critically analyze and communicate information so students are able to achieve at the highest possible level here at UNI and in their professional and personal lives following graduation. UNIFI is an innovative approach to preparing students to make an impact while at UNI and after they graduate.
The faculty and staff of UNI are committed to providing a world-class education at an affordable price while also expanding our academic reach. New academic programs mean there are more opportunities than ever before for students to turn their passions and talents into fulfilling careers. This fall's newest programs include business analytics, automation engineering technology and human services. UNI is also actively working to create new programs in healthcare and sustainability.
This summer, UNI announced new opportunities for adult and place-bound learners to earn a UNI degree through the UNI at Iowa Community Colleges (UNI@IACC) initiative. This initiative builds on UNI's commitment to making a four-year degree more accessible.
Fall sporting events are starting with the UNI soccer team playing against the University of Nebraska at Omaha on Thursday, Aug. 25. The volleyball team will have its first home match on Sept. 9 when UNI takes on Western Michigan at the McLeod Center. Panthers are also preparing to pack the UNI-Dome for the first home football game of the season, which will be against Sacramento State on Sept. 17 and features the music from the 315 students that make up the Panther Marching Band.
Tickets are currently on sale for the Gallagher Bluedorn Performing Arts Center's fall season, which includes Hairspray, Jesus Christ Superstar, Million Dollar Quartet: Christmas and more!
Now's the time to come on out and support your UNI Panthers!