Almost 90% of UNI students who become teachers work in Iowa after graduation
With 450 to 500 graduates each year for the past 10 years, the University of Northern Iowa's teacher education program is the largest in the state. Future teachers make up one-fourth of the undergraduate class at UNI, which benefits more than just the university. It benefits the entire state since 89% of teacher education students from UNI end up staying in Iowa to work after they graduate. UNI-educated teachers are also employed in all 99 counties in Iowa and in 99% of school districts.
"We know that students who come to UNI are pretty committed to Iowa. It is the university of choice for those that want to stay in the state, and we can show that over a long period of time," said Benjamin Forsyth, director of educator preparation for the College of Education. "A lot of students like the idea of going back and teaching where they were raised."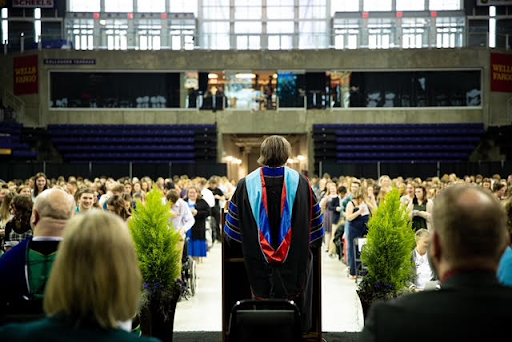 UNI attributes its success in teacher education in part to the many years it has already spent turning out great teachers. The amount of field experience students get is also crucial. Before they graduate, teacher education students get over 750 hours of hands-on classroom experience that is as in-depth as it is diverse. 
UNI is not only the largest teacher education program in the state, it also boasts one of the largest programs in the nation. Every semester, UNI hosts a "Teacher Convocation" welcoming and celebrating newly admitted teacher education students into the program. The 59th Teacher Education Convocation and Celebration made its much-anticipated return on Wednesday, April 6, after a two-year hiatus. 
This traditional UNI event is held to recognize students who have been accepted into the Teacher Education Program and celebrates the profession of teaching as a whole. The convocation was attended by five local superintendents including the keynote speaker, Mike Fisher, from Charles City, and the director of the Iowa Department of Education, Ann Lebo, provided some remarks.